Details

IF YOU ARE IN A REMOTE AREA THERE MAY BE A DELAY IN YOUR ORDER REACHING YOU.
IF ISOVER IS NOT AVAILABLE AT YOUR LOCAL DEPOT AN ALTERNATIVE OF THE SAME SPEC OR BETTER WILL BE PROVIDED. IF YOU ARE UNSURE ABOUT ANYTHING PLEASE CALL BEFORE PLACING YOUR ORDER.
Thermal insulation for pitched roof joist applications
Spacesaver is a glass mineral wool roll supplied in 100-200mm thicknesses. The strong, resilient and flexible rolls are pre-perforated to 3 x 386mm and 2 x 580mm widths to fit between common joist spacing.
Suitable for 'cold roof' applications in both new-build and renovation projects, the longer roll lengths help to increase speed of installation and ensure more efficient deliveries and storage. Rolls are installed in at least two layers, the first layer between the joists and the subsequent layer(s) cross laid over the joists.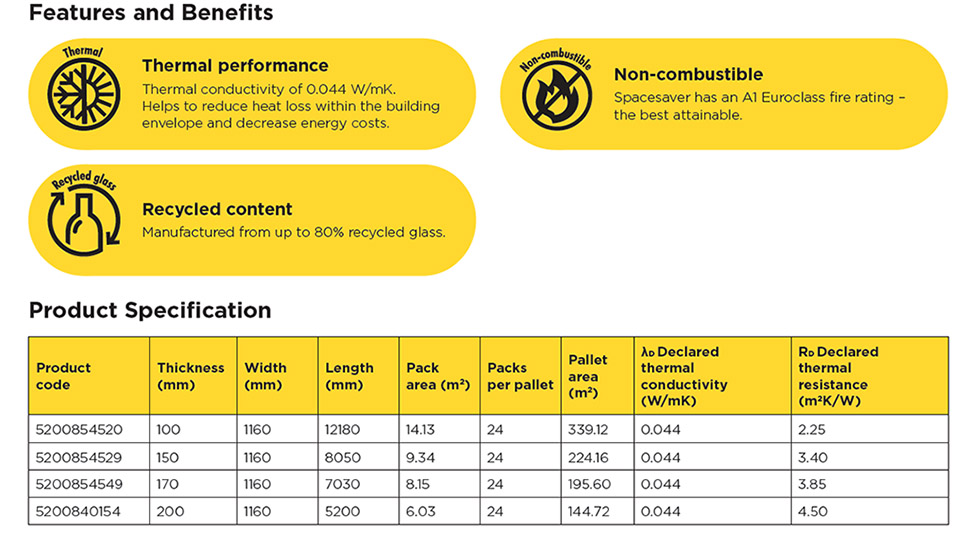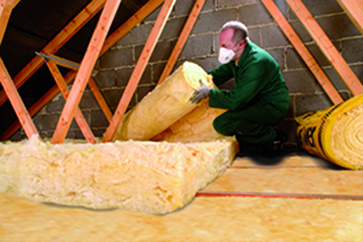 THERMAL

Spacesaver has a declared thermal conductivity of 0.044 W/mK under BS EN 13162 for factory made mineral wool.



FIRE

Euroclass A1 fire rating when classified to BS EN 13501-1. Class 'O' compliance.
Class 'O' Compliance.



ENVIRONMENTAL

All Isover products are manufactured under Environmental Management System – ISO 14001. Zero ODP (Ozone Depletion Potential), GWP 5 (Global Warming Potential). The manufacturing process does not use or contain CFC's, HCFC's or other damaging gases.



BRE STATEMENTS

Spacesaver corresponds to the BRE Global Green Guide online generic specification glass wool insulation ref 815320005. All products achieve a summary rating of A+ within the Domestic, Health, Industrial, Commercial, Retail and Education categories.



QUALITY

All Isover products are manufactured under Quality Management Standard – ISO 9001.



BUILDING REGULATIONS

Helps to meet the requirements of UK thermal building regulations.



RECYCLED CONTENT

Spacesaver glass mineral wool insulation is manufactured from up to 80% recycled glass.



DURABILITY

Thermal conductivity of mineral wool products does not change with time, experience has shown the fibre structure to be stable and the fibre matrix contains no other gases than atmospheric air (see standard EN 13162). Will not sustain vermin, nor breed or promote fungi or bacteria.



CERTIFICATION

CE marked (1121-CPD-BA0053) to BS EN 13162 and BS EN 13172.
Designation code: MW-EN-13162-T1.
BES 6001-Good rating.



AVAILABLE IN

100mm (14.13m2 per roll)
150mm (9.34m2 per roll)
170mm (8.15m2 per roll)
200mm (6.03m2 per roll)
ITEM CONTAINS
Isover Loft Insulation Spacesaver Roll Glass Mineral AS PER SELECTION
Additional Information
| | |
| --- | --- |
| Brand | Isover |
| Thickness | 200mm |
| Material | Glass Mineral |
| Area Covered | 6.03m2 |
| Height | 1160mm |
| Length | 3880mm |
| Fire Rating | Class A1 |
| Slabs | n/a |
| Thermal Performance | 0.044 W/mK |
| Density | 10KG/m3 |
| Colour | No |
When will I get my order?
We aim to dispatch your order the same working day. This is subject to your order being placed before 12pm. Next day delivery is subject to stock availability and in some rare cases where this is not possible we will call you. * Working days are classified as Monday to Friday and exclude bank holidays.
I live in a remote location, can I still order?
Delivery to Scottish Islands, Isles of Scilly, Jersey, Guernsey will be charged additional. *Customers living in some remote rural areas should note some services are not available. Depending on order value we may still be able to deliver, please contact us before placing your order
My online order hasn't arrived, what can I do?
Please give us a call or drop us a message straight away, we solve the majority of issues straight away
How much does delivery cost?
Delivery is free unless stated otherwise
Can I buy wholesale?
If you are a retailer and would like to stock our products in your store please email us with a brief description (country, products stocked, type of store/customer) along with your company details to sales@buildersemporium.co.uk